Wyman Gallery | Kelowna
The perfect person is about to be your lifetime partner...your family and friend anxiously wait to catch a glimpse of you walking toward each other. Exquisite aroma waifs from the beautifully arr...
Bride.Canada's National Sample Sale | Vancouver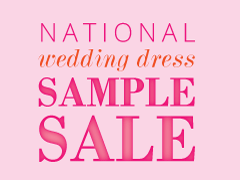 This actually Bride.Canada's HQ in Vancouver! Where we're currently also warehousing ~100 quality samples, on behalf of bridal shops across Canada (easiest to shop centrally!) If you see something...