LE Studio : Vancouver Photobooth | Vancouver

Photobooths are a great way to bring fun and a personal touch to your wedding reception. Our Vancouver photobooth is stylish, sleek & easy to operate; your guests will have a blast! We provide eve...
Bride.Canada's National Sample Sale | Vancouver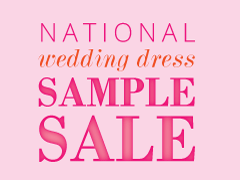 This actually Bride.Canada's HQ in Vancouver! Where we're currently also warehousing ~100 quality samples, on behalf of bridal shops across Canada (easiest to shop centrally!) If you see something...