Coast Bastion Hotel | Nanaimo
The Coast Bastion Hotel is located in the heart of charming Nanaimo, near the ferry terminal and within walking distance to the seawall walkway, restaurants, bars, and boutiques of all kinds. Our ...
International Centre | Mississauga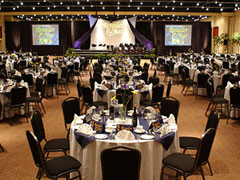 Let us host your wedding in our elegant new Conference Centre. Our innovative, worldly cuisine and elegant ballroom space will create one of the most exciting moments in your life. Our highly e...